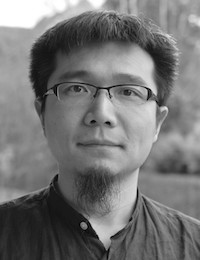 Yuheng
Zhang
, M.A.
CSRC-Grant
PhD Candidate Chinese Studies
Phone: +41 44 634 41 11
Room number: ZUB 4-407
Table of contents
Personal Background
02/2012-present
Doctorate, University of Zurich Asian-Orient-Institute
Research project: Botany, identity and the nation: a sociological history of plants in modern China
09/2008-09/2011
Master in Sociology, Nanjing University
College of Sociology, Nanjing China
09/2005-09/2007
Lecture/ Manager, Education and Research Department, Jiuzhou College of Vocation and Technology, Xuzhou China
09/2001-07/2005
B.A. in Management, Yanshan University, College of Management, Qinhuangdao China
Research Interests
History of science in China, Nationalism and nation building, Cultural and intellectual history of China
Courses
Fall 2015 and
Spring 2016
Modernchinesisch 7 & 8: Literarische Texte, University of Zurich
Spring 2014
BA Seminar, University of Zurich
Film as Soft Power and Hard Currency: Sino-Hollywood Courtship
Spring 2013
MA Seminar,  University of Zurich
Ecological issues in modern China
Fall 2010
BA Course, Nanjing University
Introduction to Sociology (social theory and social research)
Spring 2010
BA Course, Communication University of China
Methods of Social Research
Doctoral project
Plants, Identity and the Nation: A Sociological History of Plants in Modern China
Abstract
Based on a methodological approach combining theoretical research with a close examination of two case studies on urban tree planting and the surrounding social debates, this project will systematically review the sociological history 1 of plants in contemporary China.
Evolving in a primarily agricultural society, the Chinese civilization has always been closely connected to plants. Drawing upon the 'thing' philosophy, this project will explore how, under the influence of western science, plants in the Chinese intellectual discourse gradually cease to be counted among wù 物 "things" of the indigenous natural history tradition (known as 博物 Bówù, lit. "broad learning about things") and are in themselves becoming an object of various fields modern science (as for example botany, environmental politics, landscape architecture etc.).
This complex process transcends far beyond the mere domain of natural science, being deeply intertwined with the ongoing construction of the Chinese cultural memory, twisted with emerging environmental ethics and ecological awareness and as such forming part of the process of nation building and construction of a new ecological identity in the modern world.